Local Food Producers


This page has information on some of the local primary and secondary food producers who will be found regularly at West Kirby Farmers' Market.


---
Abyssinia Kitchen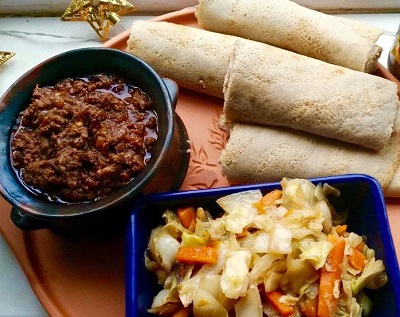 Authentic Ethiopian cuisine

Hilina Burke
186 Pensby Road, Heswall CH60 7RJ
07872 169370
www.abyssiniakitchen.co.uk
Follow us on Twitter
www.facebook.com/abyssiniakitchen

"I believe that all food should be cooked with quality fresh ingredients with no added preservatives. Food in Ethiopia has its very own unique flavour, and its special blend of chilli spice, called Berbere - this spice is the very essence within our cooking. Abyssinia Kitchen has a range that has something to offer everyone including vegetarians and vegans, from Doro Wot chicken stew, spiced lamb pies, red lentil and split pea Injera sourdough flat bread rolls and much more."

Abyssinia Kitchen have opened a new (Dec 2017) restaurant in Heswall - 186 Pensby Road, Heswall CH60 7RJ - check the website for opening details and menus.


---
Billy the Fish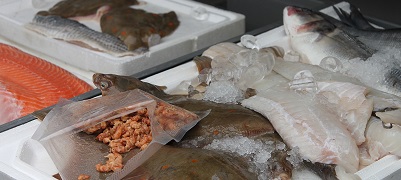 Fresh locally caught fish

Prestatyn, Denbighshire LL19 7UP
Tel: 07932 166845

I have been a professional fisherman and sea fish retailer for 28 years, with a small fishing boat in Prestatyn. All the fresh fish I sell are caught off the north Wales coast and I can supply everything from flounders, plaice and mullet through to bass, turbot, skate and dover sole in season, together with dressed crabs and peeled shrimps.

My fish can be bought at various local farmers' markets. I also deliver to pubs, restaurants and do home delivieries. Trade and private orders are welcome.


---
Bongo's Rock n Roll Chilli Pickles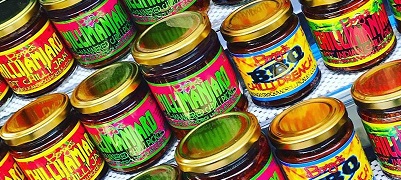 Homemade chilli condiments

Bongo's bring you their original recipe chilli condiments, handmade at home in Cheshire. Rock & Roll drummer Manny Elias and his wife, actress Deborah Bouchard are taking their passion for fresh chillies to a whole new level.

info@bongochilli.co.uk
Follow us on Twitter
www.bongosrockandrollpickles.co.uk

"Located in the heart of the Wirral, Cityveg is urban farming with a vision. Growing micro greens, baby vegetables and edible flowers within an urban setting, using 100% natural, organic methods we aim to make a lasting change to local food production, to be more environmentally sustainable and socially responsible."


---
H.S. Bourne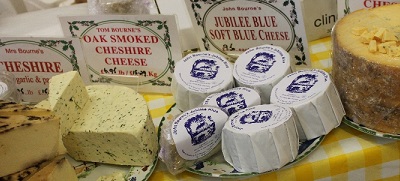 Cheshire cheese, soft blue cheese, Camembourne, butter, buttermilk.

The Bank, Malpas
Cheshire SY14 7AL
01948 770214
john@hsbourne.co.uk
www.hsbourne.co.uk

"We still use traditional methods which have been developed over many years to produce excellent Farmhouse and Organic Cheshire Cheese with a flavour far from mild or bland."

Mr & Mrs Bourne
The Bourne family has connections with cheese making that can be traced back for at least six generations, when cheese making was traditionally an integral part of life on a dairy farm. Traditional Farmhouse Cheshire Cheese was made by hand, using skills passed down from father to son, and John Bourne's father, from whom much of these skills were learned, came to the farm in 1930 and continued the tradition from that time.

Their cheese is still made on the farm in the traditional 'hands on' way by John Bourne, and his son Tom, the next generation, using milk from their own "Malbank" herd of pedigree Holstein Friesian cows. Both the farm and the herd are managed in an environmentally responsible manner, with great concern for the welfare of their cows, which leads to the production of high quality milk and subsequently dairy products.


---
Bryn Cocyn Organic Farm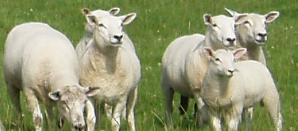 Organic lamb, vegetables and apples.

Bryn Cocyn, Llannefydd, Denbigh, Clwyd LL16 5DH
01745 540207
info@bryncocynorganic.co.uk
www.bryncocynorganic.co.uk
Follow us on Twitter

"Everything sold is produced at Bryn Cocyn - Black Beef, lamb, potatoes, carrots, onions, leeks and parsnips in winter, with a wider range in summer and autumn - roots, salads, spinach, chard, squashes, cooking apples and eaters and some apple juice from a small established orchard and a newly planted two acre orchard".

Patrick Noble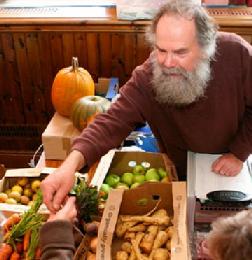 Patrick farms this small, upland mixed farm looking out into the Vale of Clwyd.

Throughout the spring, summer and autumn, cattle and sheep at Bryn Cocyn thrive on a diet of grass and clover alone. For winter feed the farm grows oats, triticale and peas, and produces grass hay and silage. This makes Bryn Cocyn self-sufficient in animal feed and no fertilisers are bought in. Animals are slaughtered in Denbigh, only 10 minutes from the farm.

In the long Winter nights Patrick writes books - the latest one Towards the Convivial Economy - published by the Smokehouse Press in March 2017.
Find out more on the Bryn Cocyn website here.


---
Chilly Stuff

Hand Made Artisan Gelato - Sicilian style

Tim Piper
Bebington
07800 756377
tim.piper@mac.com
www.facebook.com/chillystuff.co.uk

"Chilly Stuff is an artisan gelato made from scratch with real basic ingredients, in small batches for the finest quality. The churning process makes a product with virtually zero air (giving very intense flavour with amazing texture), and which tastes reeally creamy despite having less fat than normal ice cream. It also contains ZERO egg as we don't want to mask our amazing flavours."


---
The Chocolate Cellar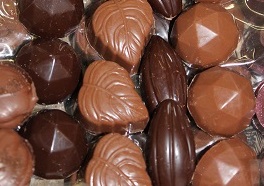 Handmade chocolates and French macarons

Bala Croman
Bidston
0151 200 2202
chocshop@thechocolatecellar.co.uk
www.thechocolatecellar.co.uk
Follow us on Twitter

"Wherever possible my ingredients are sourced locally - eggs from my own hens, mint from my garden, strawberries and raspberries from Claremont Farm."


---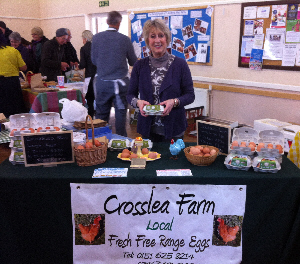 Crosslea Farm

Free-range eggs

J E Matchett
Crosslea Farm
Grange Cross Lane,
West Kirby CH48 8BG
Tel No: 0151 625 8214

"Crosslea Farm has been a family run business since the 1950s. We grow all our own feed."

The Matchett Family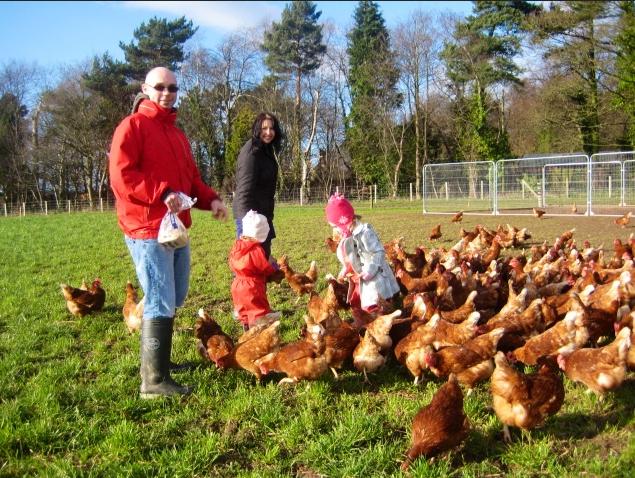 Established in West Kirby in 1957, Crosslea Farm is owned and run by father & son, John & Guy Matchett, and the eggs are brought to the Farmers' Market by John's sister Judy.

Producing the finest quality free-range eggs, their happy & healthy Lohmann Brown hens have the freedom to roam and are given food which is milled on the farm itself, with grain grown on the Wirral, resulting in delicious eggs with a rich golden colour.

The picture is of Guy and family - you'll see that it's a real family affair.


---
Dolwen Farm Shop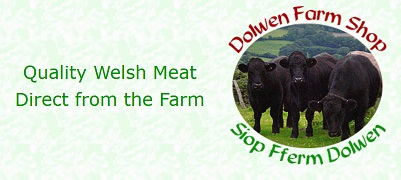 Beef, lamb, pork, chicken, burgers.

Cefn Fran
Dolwen, Abergele
North Wales LL22 8NH
tel : 01492 680209
info@dolwenfarmshop.co.uk
www.dolwenfarmshop.co.uk

"We are a farming family in Dolwen near Abergele in North Wales, and sell meat direct from our mixed dairy farm. We rear cattle, sheep, pigs and poultry, and animal welfare is of paramount importance - they are all happy animals."


---
Flaming Bean Coffee Roastery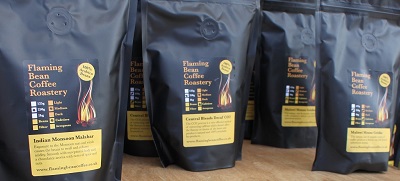 Handpicked Specialty Coffees

Unit 39, Clayhill Light Industrial Estate
Coalbrookdale Road
Neston CH64 3UG
Tel: 0151 345 0637
enquiries@flamingbeancoffee.co.uk
www.flamingbeancoffee.co.uk
Follow us on Twitter

"Our coffees are purchased from reputable sources where the coffee farmers are rewarded with a fair price for their hard work. The overall majority of Flaming Bean's green coffee is purchased from farms/estates that support environmental sustainability by promoting organic agricultural practices and honest wages for farmers through better than fair trade pricing."


---
The French Corner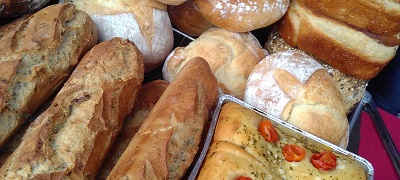 Traditionally baked bread and viennoiserie.

Barclays Trading Estate, Unit 1
Broofkfield Drive, Aintree,
L9 7AJ Liverpool
0151 521 3500
Email: thefrenchcorner@hotmail.co.uk
Visit our facebook page here

"All your favourite french breads. Baguettes, croissants, pains au raisins and more, all made by hand and traditionally baked at our bakery in Liverpool."


---
Fudging Lovely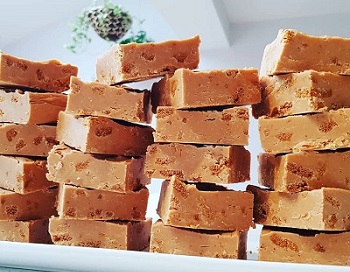 Confectionery - fudge, marshmallows and more...

Shelagh Keating
Irby
email: info@fudginglovely.co.uk
www.fudginglovely.co.uk
Follow us on Twitter
Follow us on Instagram
www.facebook.com/fudginglovely

"I use British ingredients wherever possible and don't take shortcuts. Fudging Lovely is made in super small batches to ensure perfection every time. AND it's made the back breaking traditional way of boiling and then beating it to within an inch of its life."


---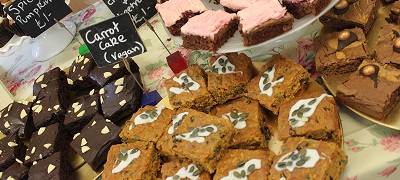 Funky Flapjacks

Biscuits, traybakes, small cakes & flapjacks.

Wendy Roberts
West Kirby
0151 625 6074

"We specialise in home-baked cakes using fresh fruit and vegetables. Try our carrot & cinnamon, chocolate & beetroot, pear & ginger, blackberry & apple and lots more. "


---
J.H.Jones Market Garden

Home grown fruit and vegetables.

J.H.Jones
Market Garden
Heath Lane, Childer Thronton,
South Wirral, Cheshire CH66 7NS
07540884186
jhjones1@ntlworld.com
www.heathlanefarmshop.co.uk

"My family have been growing fresh fruit and vegetables for over 100 years, currently we have 90 acres of growing land, producing a range of about 40 different crops throughout the season and fully support all local food initiatives."


---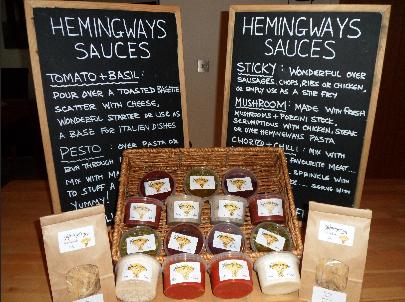 Hemingway's Pasta

Homemade Pasta, sauces and pesto.
Claire Hemingway-Moffat
Alpraham, Tarporley CW6 9LJ
hemingways.pasta@yahoo.co.uk
www.facebook.com/hemingways.claire
Follow us on Twitter

"We make everything in our home kitchen, using locally-sourced ingredients - Saughall eggs for the pasta, and homegrown tomatoes and basil when they're in season".


---
Larkton Hall Cheese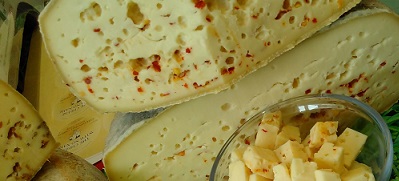 Italian Alpine Style cheese made in Cheshire

Larkton Hall Farm, Malpas Cheshire SY14 8LR
anne@claytonpartnership.co.uk
www.facebook.com/Larkton
Follow us on Instagram

"Using the milk from our own dairy herd, we use age old traditional techniques from the Italian Alps to make our continental style cheeses."


---
Little Eye Bakery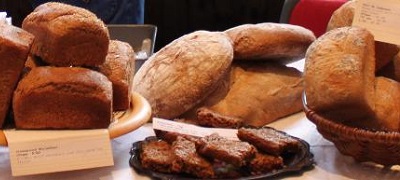 Locally baked sourdough breads and tea-time favourites.

Malcolm and Deborah Williams
4 Townfield Road, West Kirby
Wirral CH48 7EZ
0151 625 9221
info@littleeye.org.uk
thelittleeyebakery.blogspot.com
Follow us on Twitter

Winners of 2 awards at the NW Fine Food Awards 2011 for their Russian sourdough rye bread and omega sourdough.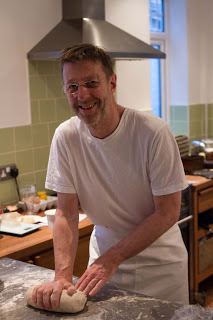 "Our sourdough bread is made in small batches, using well-established cultures, traditionally milled flours and moulding by hand - enhancing flavour and keeping qualities. We also make flapjacks and other tea-time favourites."

Malcolm Williams

Malcolm launched Little Eye Bakery in 2010 to meet and stimulate demand for local, high quality craft breads.

He is a believer in the slow food approach - working with wild yeast starters, slow fermentation techniques, hand-kneading, and organic and local sourcing. There are no preservatives or artificial additives.

He works largely from home, making a variety of hand-moulded and tinned sourdough breads for farmers' markets, customers, and local outlets such as Deli1386.


---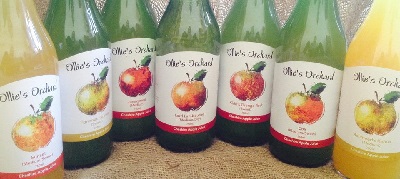 Ollie's Orchard

Cheshire apple juices and ciders.

Tarporley, Cheshire CW6 0PG
Tel: 07549 529 323
Email: sales@olliesorchard.co.uk
www.olliesorchard.co.uk

"Home pressed apple juices and ciders made from the fruits of our own orchard in Cheshire."


---
Pat's Country Kitchen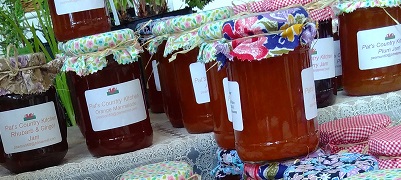 Homemade preserves & cordials, cottage garden plants and cut flowers.

Patricia Pearson
Denbigh
pearson60@btinternet.com
Mob: 07809 607594

"Most of the ingredients for my preserves are either grown organically on my allotment or sourced locally, and the plants grown in my garden."


---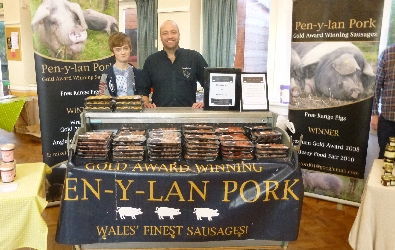 Pen-Y-Lan Pork

Sausages from free-range pigs.

Mike Ford
Penley, nr. Wrexham LL13 0ND
mikeford01@googlemail.com
Follow us on Twitter

"Our sausages are from the four finest parts of our free range pigs. These parts are the shoulder joint, leg, pork chops and belly pork. All slightly seasoned, but more importantly made using all natural skins and nothing synthetic."


---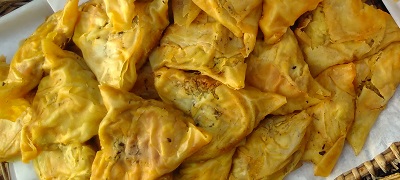 Perfect Samosa

Samosas

Kay and Sanya Wadud
NoWFOOD, Parkgate Road, Chester, CH1 4BJ
info@perfectsamosa.co.uk
www.perfectsamosa.co.uk
www.facebook.com/pg/PerfectSamosa
www.twitter.com/perfect_samosa
Follow us on Instagram

"Mother and daughter baking enthusiasts, specialising in delicious, hand crafted samosas freshly made for market using local seasonal ingredients."


---
Tiresford Guernsey Gold

Soft cheese, yoghurt and yoghurt drinks.

Tiresford Farm,
Tarporley, Cheshire
guernseygold@hotmail.co.uk
www.tggcheshireyogurt.co.uk
Follow us on Twitter

"Our produce is all made with the milk from local pedigree Guernsey Cows. The Golden Brie has been successful beating both the French and Somerset Brie at the Bath and West Agricultural Show."

Andrew Hope

Recently retired from farming, Andrew farmed in a small, bustling corner of rural Cheshire, on Tiresford Farm - home for 55 years, of the renowned Tiresford Guernsey Herd.

He still insists on using only the milk from local Guernsey cattle - these are known to produce the highest percentage of A2 milk of all breeds of dairy cattle, plus a very characteristic golden colour due to the exceptionally high content of beta carotene.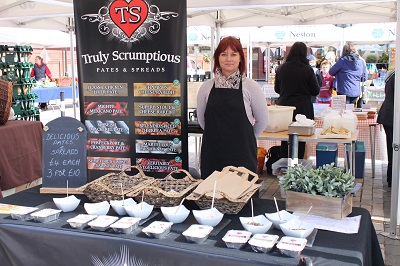 ---
Truly Scrumptious

Patés, spreads and rarebits.

Yvonne Lea
Great Boughton, Chester, CH3 5RF
trulyscrummy@btinternet.com

"Our products are hand made with love using all-natural, locally-sourced ingredients."



---
Veggie Fayre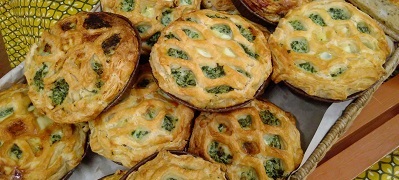 Veggie scotch eggs and pasties, nut burgers and hummus.

Rossett, Wrexham, LL12 0HE
01978 265607
susan.dresner@btinternet.com
www.veggie-fayre.co.uk
Follow us on Twitter
Follow us on Instagram

"We are a family business that makes good quality veggie food in our home kitchen. We source our ingredients carefully using locally grown organic vegetables when they are available."


---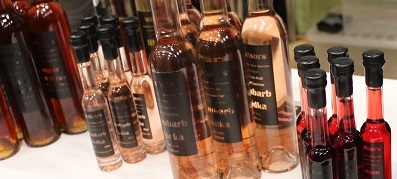 Windsor's Fruit Liqueurs

Homemade liqueurs and shrubs. From Damson Gin to Rhubarb Vodka.

Mary Walton
Burton
info@windsorsfruitliqueurs.uk
www.windsorsfruitliqueurs.uk
Follow us on Instagram

"We make artisan hand-crafted liqueurs using a traditional infusion method containing local & seasonal real fruit and no artificial flavouring or colouring."


---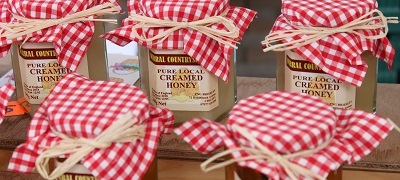 Wirral Countryside Bees

Honey, propolis, pollen, beeswax products and chilli jam made with our own honey.

Nigel Brierley
Moreton, CH46 7TU
07977 624 698
wirralcountrysidebees@gmail.com

"The honey comes from our hives on the Wirral."

Stocked locally at A.I. Roberts in The Crescent and Gordale Nurseries.


---
Yasmin Limbert

Sweet and savoury pies, tarts and quiches.

16 Broughton Avenue, West Kirby
Wirral CH48 5ER
07941 112 784
yasminlimbert@hotmail.com
www.yasminlimbert.blogspot.com
Follow us on Twitter
Follow us on Instagram

Star of the BBC's Great British Bake-off. See Yasmin's recipes for the series on her blog.


---
Y Cwt Mwg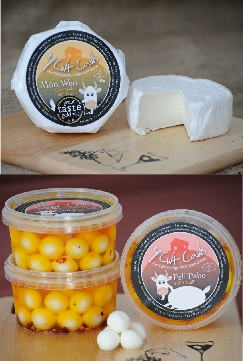 Smoked produce and goats cheeses

Nigel & Rhian Jefferies
Cors yr Odyn
Dulas
Anglesey LL70 9DX
01248 410372
rhian.derimonsmokery@gmail.com
Follow us on Twitter
Follow us on Instagram

"We smoke practically anything! Fish, cheese, meats, garlic and much more!! All the cheeses we sell are produced by hand on the farm using pasteurised milk from our free range goats. All the cheese is produced using vegetarian rennet.

Mon Wen (White Anglesey) - a delicious camembert type with a punchy flavour this won 2 gold stars at the Great Taste Awards 2012.
Peli Pabo - soft goats cheese balls in sunflower oil in 3 flavours plain, garlic & herb and chilli."